Anything is possible in these times.
In order to enable humankind to fulfil its highest destiny we need awakened beings to rise and act true to the calling of their Soul.
Awakening, finding and living this calling is what the Priestess School is dedicated to.
The question is:
Do you dare to commit to your true calling?
*
If you are new to my work, then this will be a good little intro. If you've been around for a while (perhaps even from the moment I started sending out these love letters in 2014!) – here's where I'm currently landed 🙂
I founded the Priestess School in 2017. The School is a culmination of nearly a decade of my work with women. The School consists of 5 modules, each module lasting one week (apart from module 4 which goes on for 10 days).
The first module has received a reputation of being a "washing machine", because it helps clear the murky and unconscious conditioning that women carry around concerning what it means to be a woman, and it is necessary to have a close look at that, so that Greatness can shine through. In this module women work with their shadow, learn to be-friend their emotions, their eroticism, their natural cycles; they also discover the science of the dynamic of attraction, meet the great mother Kali and fall in love with the process of Transformation. Women also discover what is their true Gift to the world, and get empowered to carry this gift with dignity and ownership.
The second module is where women start "stretching". This module is called Activate Your Erotic Wisdom and this is a deep dive into eroticism and sexual liberation for women in a very safe environment of healing and empowerment.
The third module is when we invite men to join the temple. They have a training that runs in parallel to the women's one and we all work on Activating the Warrior, and the Highest way of meeting between the Masculine and Feminine.
The fourth module is called the Great Work of the Soul, and this is when we go on a pilgrimage to an ancient Egyptian temple and collect the memories and codes necessary for us to hold the point for the birth of the New World.
The fifth module is the Leadership Training and it is an invitation only program that enables people to facilitate this work.
*
In October we were running the last training for this year (Number 7) – Module 1, side by side with a team of the new Leaders of the School.
These women were with us in October during module 1 in Mallorca. The clarity and potency of Space in this training was next level, because these women are actually trained in holding this kind of space, the Priestess Way: from pure presence and egolessness.
Yes, this Summer the Priestess School has released its first batch of Leaders, and I couldn't be more excited!
Besides that, this year we had a module 1 in Bali, module 2 in Ibiza and module 3 in Andalucía. The module 3 was really something else. After all the inner work that the women had been doing over the modules, they could meet men in a new, awakened way. The men were going through their own training, and when we were meeting – profound healing was taking place. All the wounds exposed and healed with the sweet nectar of acceptance and holding.
Next March we are going back to Egypt, and that journey is already half full, which proves to me that people in this tribe are really IN for a deep dive.
*
Over the last years I have been guided to various places on Earth that invited the particular frequency of our Work. Temple spaces have been created in each of those places. I rarely returned to any place, because it felt like the work on that land was complete, for now. I am drawn to a few new locations and will be holding trainings there soon (either personally or via the Leaders).
I know, however, that I have to build at least one (most probably several) permanent structures – Temples. A temple has to be built following specific guidelines, in harmony with the natural environment and spiritual alignment.
The Temple will be supported by temple keepers, some will live on site permanently, some will come for certain chunks of time. The Temple will host rituals, trainings, parties and workshops. Sometimes just for the community – at other times it will be open to a general audience.
*
In my view The Temple is a safe and sacred space where the totality of what we are is held and nourished. It is a space of vision, where great clarity can be revealed. It is a space where we come to be cleansed by the fire of truth and return to the innocence of who we truly are.
It is a sacred Temple, where men and women gather to connect, tap into the mystical realms of life, cultivate deep presence and connection with nature, perform sacred sexual, shamanic, Tantric practices and rituals together, support each other in our powerful dharma and in the process of awakening to our divinity.
*
I also know that I don't have to search and/or try to make things happen. Everything will unfold naturally and with ease. In fact, it has already started unfolding.
Recently I saw the first potential land, in Ibiza.
*
I have created another School called Serpent Mystery School (for all genders) – sometimes the two Schools converge (like in Egypt and in Activating the Warrior training), and I have published my book Liberation into Orgasm. You are welcome to check out my online offerings – a huge amount of free articles and videos on my website, 3 online courses and 2 new ones are going to be released in a month.
In person trainings are for people who are in for TRANSFORMATION, EXPANSION AND TRUTH, and they really mean it.
Are you one of us? Come join the family, we can't wait to meet you.
The Bali training has a few open spots.
If you were to start this February in Bali you could potentially complete the whole Priestess School program in one year. Some people took two years to complete it. Some will take three.
Find out more details here and apply to join us today.
Photo by Jodie DS taken in Module 1 of Priestess School in Bali.
Lets get connected. Join the tribe of 100k+ like-hearted souls and follow me on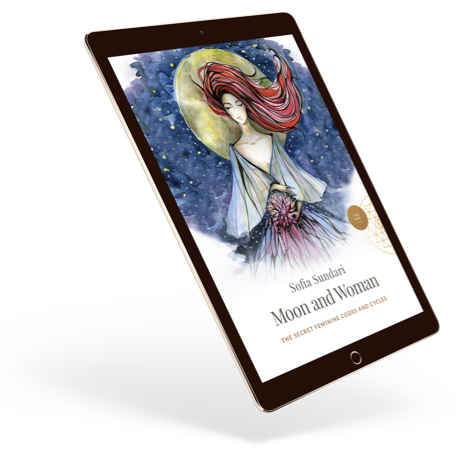 Get your free ebook
Moon and Woman
Become even more connected to the incredible vessel that is your feminine body.